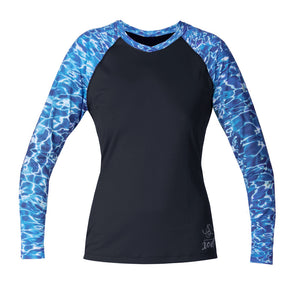 Xcel Women's Water Inspired Ventx L/S
₱1,50000

₱1,500.00

Save ₱1,000
Tax included.
Shipping
calculated at checkout.
---
---
Breathable, moisture wicking, quick drying 4-way stretch fabric for maximum performance in and out of the water. Rated UPF30 for Very Good sun protection.
The Story of the Water Print
"For me, this water piece represents life. I feel that water, and specifically the ocean, is the connective medium that links us all together. It also reminds me to live life to the fullest, because whether I'm sliding across a wave on a surfboard, or gliding underwater among sharks, whales and dolphins, these are the best and most profound moments of my life. I hope this piece inspires and helps you to live life to the fullest, enjoy your time in the water more, and especially to make choices and take actions to protect our oceans and marine life. Please help to reduce, reuse and recycle for future generations to enjoy." - Ocean Rasmey
Your Support
Your personal involvement makes protecting sharks and other marine life possible, so we thank you for joining the growing global community of ocean lovers dedicated to saving sharks and conserving the marine environment for current and future human and animal generations.